How does it work?
Candidate screening has progressed
One of the biggest recruitment challenges for any company is to screen candidates in an efficient and engaging way. The goal of the candidate screening process in recruitment is to efficiently sort through the hundreds, or even thousands of resumés to identify the best candidates, foster diversity in your candidate pool, and enforce fair hiring practices. While the screening phase is a critically important part of the hiring process it is also time-consuming and tedious for recruiters.
Introducing Tengai
Tengai is developed to streamline the screening phase by guiding candidates through a structured interview and collecting relevant data. With Tengai's structured interview data, you can compare candidates' personality fit and identify the right candidates to have face-to-face interviews with. At the same time as you are creating a more interactive and fun candidate experience. The Tengai avatar is the interface between our recruitment platform, Tengai Recruiting Hub, and our candidate platform Tengai Talent Hub.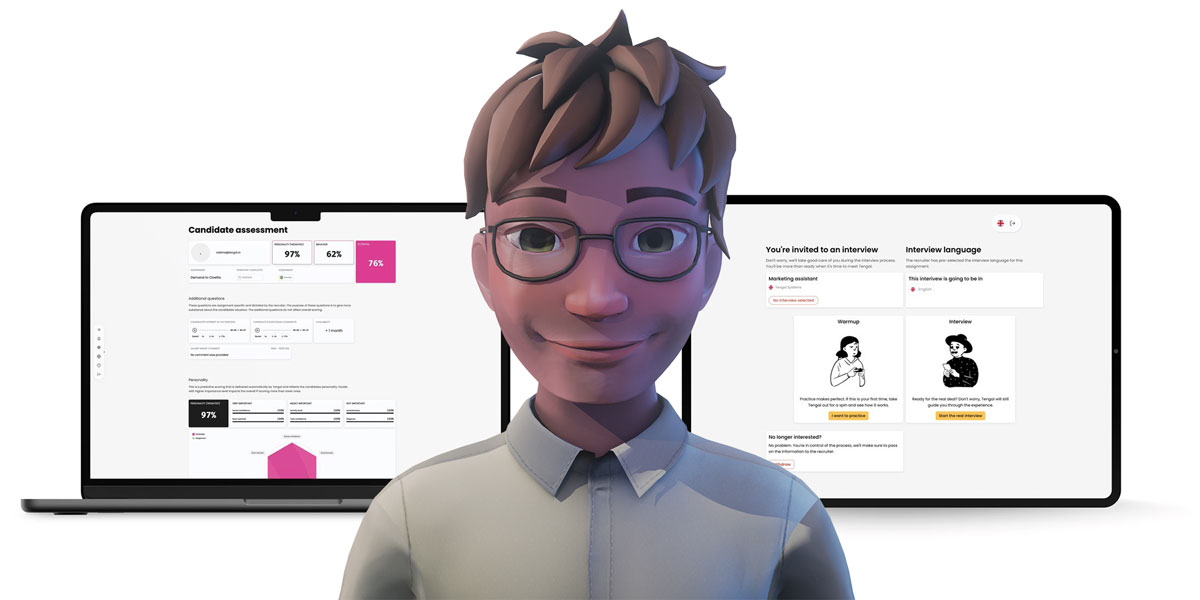 How Tengai saves you both time and money
The process
1. Customize your assignment
Create your assignment, add classic screening questions adapted to different roles, and customize the personality categories. By choosing what personality traits you consider significant for the role in mind, you will get more specific interview analytics.
2. Let Tengai guide candidates through a structured screening interview
Tengai empowers candidates to have the screening conversation on their own terms. Either instantly when applying, or at a later time. Our platform seamlessly adapts to both mobile and desktop devices, without any downloads or waiting. Tengai always gives candidates the option to do a trial interview and sends personalized feedback to each applicant to ensure an engaging candidate experience.
The structured interview framework measures the candidate's soft skills, past behavior, and competencies and includes classic screening questions that you have selected. The framework was developed by a team of diverse HR professionals with over 20 years of experience in unbiased recruitment and is validated by psychometric experts to objectively measure future work performance
Tengai has been trained to have human-like qualities and exercises "human" cues, like nodding, blinking, and listening. Our AI uses NLU, which allows it to understand and interpret human language as it is spoken. To ensure a fair assessment, Tengai conducts "blind interviews" and does not have any access to candidates' personal data or uses facial recognition software to remove any possible discrimination based on appearance. The bi-directional conversation is available in both English and Swedish.
3. Scientific shortlist
Once the first interview is completed, you gain access to a shortlist where you can compare candidates' personality fit. The structured data makes it easy to identify the right candidates to have face-to-face interviews with. Dig deeper into your candidates' potential and how each applicant matches the selected parameters. Listen to candidates' audio answers, in a playlist format, and learn how they've handled specific situations. Adding, removing, or changing screening questions or adjusting your parameters is easily done in the Tengai Recruiting Hub.
SUCCESS STORY
SEB takes the next step toward unbiased recruitment
We believe that AI can be used to create a more objective and accurate recruitment process - and so does the Swedish bank SEB.
of candidates think Tengai reduces the risk of discrimination
of candidates think Tengai enhances the hiring process
of candidates would like to be interviewed by Tengai again
Achieve better results with Tengai
Use Tengai's AI recruiting software to improve your recruitment efficiency, effectiveness, and boost inclusivity.
Increased efficiency
Tengai streamlines the recruitment process and frees up time by asking pre-defined questions, recording answers, and rating candidates' responses in real-time.
Enhanced candidate experience
Despite being a virtual interview, Tengai's avatar reduces the candidate's stress with an unbiased, personalized and human-like interview experience.
Reduced bias
Tengai carries out structured interviews, ensuring all candidates are asked the same questions in the same manner, reducing the potential for bias in the selection process.
Improved quality of hires
Tengai's interview process helps make more accurate hiring decisions to ensure you select the most qualified and suitable candidates for the job.
Secure
Tengai is validated by psychometric experts, GDPR compliant, and follows ethical AI regulations.
Cost savings
With faster time to hire and higher quality results, recruiters can significantly reduce the overall cost of their recruitment process.
Schedule a demo
With Tengai, you reduce the risk of bad recruitment decisions. Book a meeting to learn more about how Tengai works or to activate your offer!